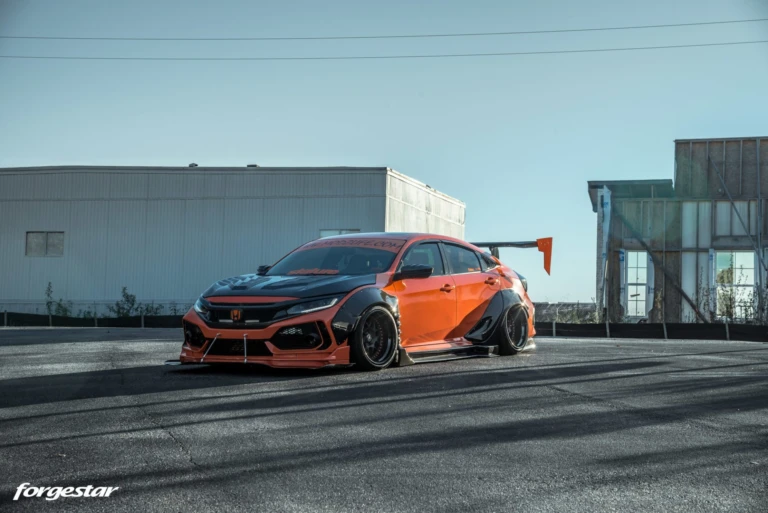 Orange Honda Civic FK8 Type-R Widebody On Forgestar M14 Modular Forged Wheels
March 1, 2022
This Honda Civic FK8 Type-R is graced with a carbon fiber widebody kit, performance mods, a BBK (Big Brake Kit), several visual upgrades, all coming together thanks to a set of custom-made Forgestar M14 Modular Forged wheels, sized 18x12 in the front and 18x11 in the rear
Let us just put it out there, if you are not a fan of extravagant widebody builds like this one, skip this whole piece altogether. However, if you are a fan of extravagant JDM builds, stay with us a bit more. This is a build you definitely want to check out. This particular build features a
Honda Civic FK8 Type-R
, upgraded with a complete carbon fiber widebody kit, performance upgrades, and finally, a set of Forgestar M14 Modular Forged wheels. The FK8 Type-R is based on the eleventh generation of the Honda Civic. For many, it's the most extravagant hot hatchback even in its stock form. In turn, adding a widebody kit to this vehicle only further accentuates its aggressive outlook. As you will see in the images below, the body kit consists of a carbon fiber time attack front lip spoiler, wide wheel arches in the front, side skirts, wide wheel arches in the rear, a carbon fiber rear diffuser, and a rear aero wing, joined by a ventilated carbon fiber boot and hood. In all, a great-looking widebody kit, complementing the aggressive lines of the Civic Type-R perfectly.
The vehicle also features an aftermarket exhaust system, cold air intake, an aftermarket BBK (Big Brake Kit), coilovers, and a few more touches, making it an even more capable performance machine. However, it's the
Forgestar M14 Modular Forged wheels
that put the final touch on this build. The
Forgestar M14 modular forged wheels
are
sized 18x12 in the front and 18x11 in the rear
and come with a
Gunmetal Face and Gloss Black lip finish combination
. These wheels are built to your exact custom specifications, they come with custom bolt patterns, offering a wide range of sizes and offsets, perfect for many demanding aftermarket builds like this one.
You can custom order these wheels through a wide network of our 
authorized dealers
worldwide. Please 
contact us
for more information about ordering, pricing and other questions you may have. In the meantime, please grab a detailed look at this build in the media gallery right below. [/et_pb_text][dipl_masonry_gallery _builder_version="10.0.1" _module_preset="default" theme_builder_area="post_content" image_ids="749484,749483,749482,749481,749480,749479,749478,749477,749476,749475,749474,749473,749472,749471,749470,749469,749468,749467,749466,749465,749464,749463,749462,749461,749460,749459,749458,749457,749456,749455,749454,749453,749452,742585,742584,742583,742582,742581,742580,742579,742578,742577,742576,742575,742574,742573,742572,742571,742570,742569,742568,742561,742560,742559,742558,742557,742556,742555,742554,742553,742552,742551,742550,742549,742548,742547,742546,742545,742544,742543,742542,742541,742540,742539,742538,742537,742536,742535,742534,742533" number_of_columns="3" column_spacing="10px" image_size="large" hover_enabled="0" sticky_enabled="0"][/dipl_masonry_gallery][/et_pb_column][/et_pb_row][/et_pb_section]