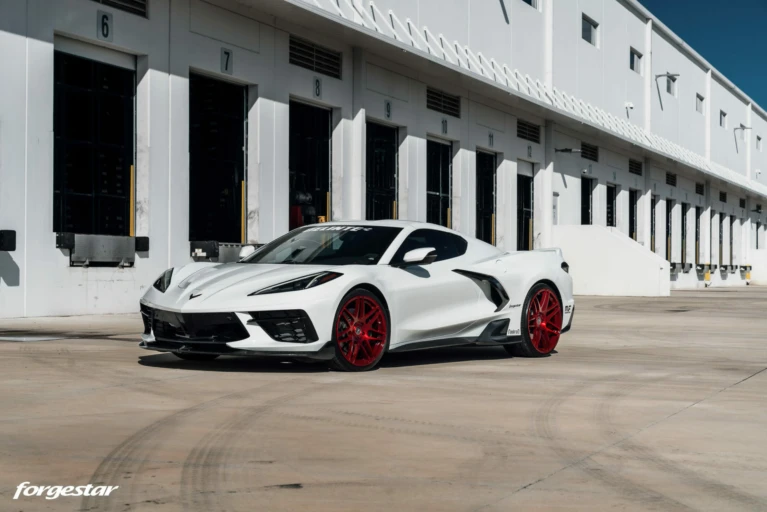 Bespoke Candy Red on White For This Corvette C8 Rolling On Forgestar F14 Wheels
February 22, 2022
The clean white exterior of this Corvette C8 is perfectly accentuated with a set of custom-made Forgestar F14 wheels, sized 20×9 and 22×12 in the front and rear, finished in a beautiful Bespoke Candy Apple Red finish
The Corvette C8 is the eight-generation of one of the most successful cars ever to be produced. And while the previous generations were mostly evolutionary steps in the life of this American muscle car, the eight-generation was a revolutionary one: following several experimental CERV prototype vehicles, it is the first mid-engined Corvette since the model's introduction in 1953, marking Chevy's venture into the higher-end of the performance car market. It is powered by a new naturally aspirated 6.2 L V8 engine. It is rated at 490 horsepower and  465 lb-ft (630 Nm) of torque – an improvement of 40 horsepower and 10 lb-ft (14 Nm) over the outgoing 
C7 Corvette Stingray
. The eighth-generation Corvette makes matters even more interesting. This is also the first one that comes without a manual transmission option in decades. The manual was dropped due to a lack of customer demand, though structural concerns were cited as well. The only other model years not offered with a manual transmission were the 1953–1954 C1 and the 1982 C3. In the Corvette C8, the engine is utilized in sync with an 8-speed dual-clutch automated transmission made by Tremec, which utilizes paddle shifters on the steering wheel. In turn, this makes the eight-generation of the 'Vette one of the most appealing options in the high-performance car market today.
For the owner of this beautiful white Corvette C8, adding a set of Forgestar Wheels was one of the first things done after taking delivery of his prized American muscle car. While we've already seen one of the
most menacing-looking 'Vettes
out there, this one comes with a more understated, albeit gorgeous look nonetheless. It features a set of lightweight
Forgestar F14 wheels
. However, these come with a gorgeous
Bespoke Candy Red finish
, making it an eye-popping look for this vehicle. For those interested, the wheels on this Corvette are
sized 20×9 and 22×12 in the front and rear
, respectively. You can grab a detailed look at this Chevrolet C8 Corvette build in the media gallery below. If you are interested in a set of Forgestar F14 wheels for your vehicle, please don't hesitate to
contact us
 right away. Our sales team will connect you with an 
authorized dealer
 near your location, but also, assist you in choosing the best fitment for your vehicle.