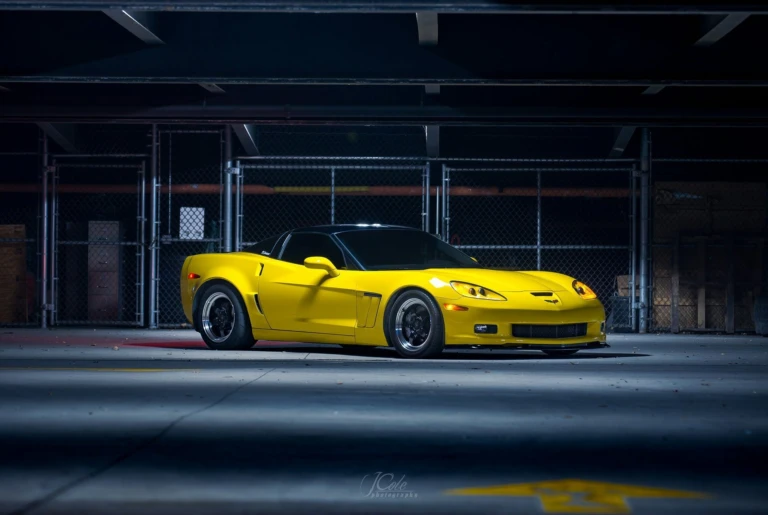 Corvette C6 Grand Sport Lowered On A Set Of Forgestar D5 Drag Racing Wheels
April 20, 2020
For this Corvette Grand Sport, the wheels are built in sizes of 19x10 in the front and 18x12 in the rear, which come with a Gloss Black and Polished aluminum finish combination
Sure, red is the color of choice for many
Corvette
owners. However, bright finishes like red or the one we have here have gained popularity with the last several generations of the American muscle car. Called Sunburst Yellow, this finish suits the
Corvette C6 Grand Sport
perfectly. It gives the aggressive body lines of the vehicle a solid accentuating touch, but also, makes the vehicle look brighter and more appealing at the same time. However, for this Corvette Grand Sport, the bright yellow exterior finish is not the only thing that separates it from the rest of the pack. This Corvette features a set of recently revealed
Forgestar D5 drag racing wheels
. These drag strip approved wheels are approved by SFI 15.1 and 15.2 standards, feature a rotary formed flow formed barrel, and a monoblock construction. Furthermore, they will clear big brake kits, and feature a raised center cap for additional axle clearance. Finally, they come with bead knurling, aiding in keeping the tire in place in various high-performance drag strip situations.
For this Corvette Grand Sport, the wheels are built in
sizes of 19x10 in the front and 18x12 in the rear
. Furthermore, the wheels are adorned with a
Gloss Black finish for the centers and Polished Aluminum for the lips
. You can
order these wheels right away
. Please don't hesitate to
contact us
for more information regarding fitment, sizes, finishes, or anything else that you might need. In the meantime, a detailed gallery of this Sunburst Yellow Corvette C6 Grand Sport with Forgestar D5 wheels is available right below.