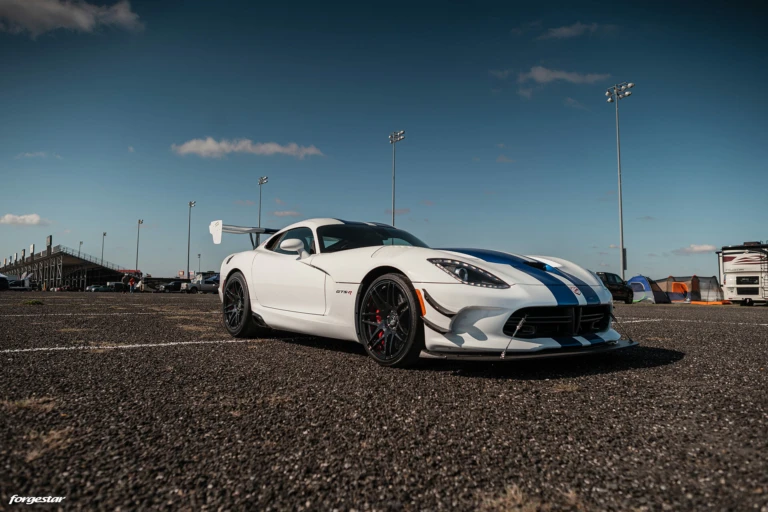 Dodge Viper GTS-R Is Ready For The Track! Forgestar F14 Wheels Installed
August 31, 2021
Showcasing a set of Forgestar F14 wheels, sized 19x11 in the front and 19x13 in the rear, adorned with a Gloss Black finish, this Dodge Viper ACR looks incredible
The love affair with the
Dodge Viper
from almost everyone in the car community is well known. However, the sales numbers declining and the overall shrinking market for high-performance coupes put the final nail into the coffin of the Viper. On the other hand, that doesn't mean we will stop getting sick Dodge Viper builds. Just as this one. Showcasing the pristine Viper GTS-R body kit, this Dodge Viper ACR is a beast in true form. Featuring a carbon fiber aero kit, including a front splitter and a fixed carbon fiber rear wing, this body kit produces a whopping 1,500 lbs (680 kilograms) of downforce. In this model range, the Viper is powered by the well-known 8.4 liter V10 engine, delivering 645 horsepower and 600lb-ft (813Nm) of torque. Add the Brembo carbon ceramic brakes, built specifically for this car, and this Viper can stop as impressively as it can go through the tight corners. Overall, a performance oriented machine from start to finish, making it a perfect foundation for an aftermarket build.
This particular white
Dodge Viper GTS-R
comes with a set of lightweight
Forgestar F14 wheels
. The wheels come in OEM sizes. However, since this is the Viper ACR, these are wide. Really wide.
Fronts are sized 19x11 and the rears are sized 19x13
. Furthermore, the wheels feature a
Gloss Black finish
, working great with the white exterior of the vehicle. Finally, these are wrapped in
Kumho Ecsta V720 ACR tires
, a variant of the V720 tire specifically built for the ACR. 
The tires are
sized 295/25/19 in the front and 355/30/19 in the rear
. You can grab a detailed look at this Dodge Viper build in the media gallery right below. If you are interested in a set of wheels for your snake, please don't hesitate to
contact us
right away. These wheels are available for ordering at our
authorized dealers
worldwide. If you have any additional questions about our wheels, fitments or sizes, please don't hesitate to contact us right away. Our sales team will provide you with all the information you may need to order the best fitting set of wheels.