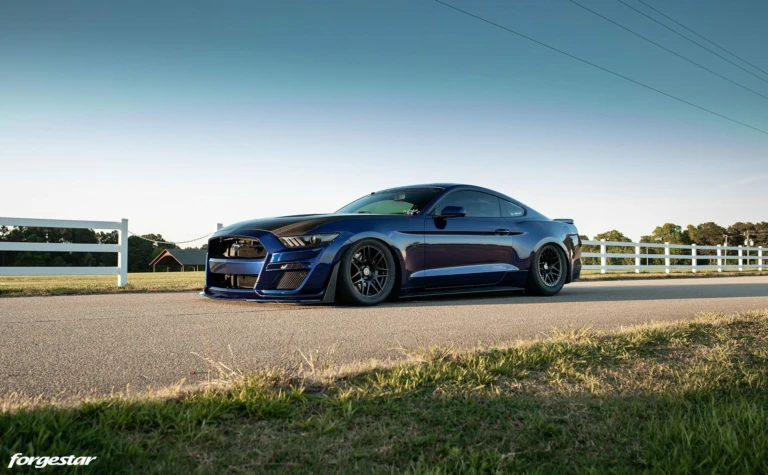 Ford Mustang S550 Gets Ready For The Drag Track Thanks To Forgestar F14 Beadlock Wheels
July 7, 2020
This Ford Mustang comes with Forgestar F14 Beadlock drag racing wheels, sized 17x9.5 in the front and 17x10 in the rear
The
Ford Mustang
is a household name when it comes to American muscle cars. From the first generation, all the way to the current one, the vehicle symbolizes power and aggressive looks. Sure, the purists won't bother even talking about the current-gen Mustangs powered by the 2.3L EcoBoost engines. And we can certainly understand that. For them, a Mustang needs to have a V8 engine under the hood. And we totally agree! This particular blue sixth-generation Mustang GT comes with a bevy of aftermarket mods, pushing its aggressive looks to a whole new level. However, apart from all the carbon fiber additions, an air ride, joined by blacked-out taillights and other, dark touches, the most impacting product addition to this Mustang are the
Forgestar F14 beadlock drag racing wheels
.
For this build, the customer went with a set of
Forgestar F14 drag racing wheels
, featuring a normal wheel setup in the front and a beadlock setup in the rear. The wheels are
sized 17x9.5 in the front and 17x10 in the rear
. They are adorned with a
Satin Black finish
. In turn, this blue Ford Mustang GT S550 is ready to hit the drag strip, thanks to the first beadlock flow formed wheels ever to be revealed. A more detailed look at this
Ford Mustang with Forgestar F14 Beadlock wheels
can be seen right below. For ordering information, whether it be wheel fitment, pricing, finishes, or other items, please don't hesitate to
contact us
right away. You'll find our sales team very helpful in ordering your brand new set of wheels.