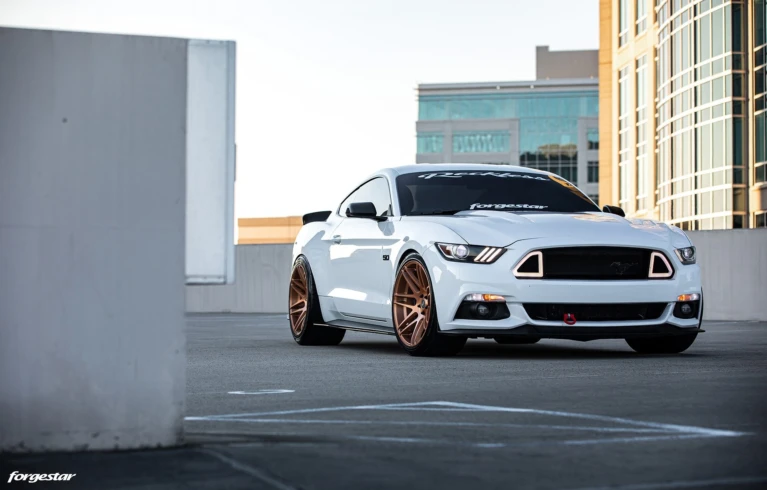 Oxford White Ford Mustang GT Gets Rose Gold Forgestar F14 Wheels
December 28, 2021
THIS OXFORD WHITE MUSTANG GT COMES WITH FORGESTAR A SET OF GORGEOUS ROSE GOLD Forgestar F14 WHEELS
Even though it's not seen that often in the recent several years, a combination of a white vehicle with a Bronze/Gold/Yellow wheels is still a pretty damn awesome sight to see! And if you make that combination for a classic American muscle car like the
Ford Mustang GT
, it gets all the better. Sure, for some, it may not be the best option color-wise, but the contrasting look this achieves will be viewed as gorgeous by most car enthusiast out there. Overall, the current-generation Ford Mustang GT is a great car. Performance wise, the car comes with a 5.0-liter Ti-VCT V8 engine with port fuel injection, providing a whopping 460 horsepower and 420 lb-ft (569 Nm) of torque. It's all connected to a 10-speed SlectShift automatic transmission, featuring a wide-ratio span and optimized gear spacing, improving responsiveness and performance during acceleration runs. In turn, you'll be able to hit 0-62mph (0-100km/h) in as low as 4.6 seconds.
Add the usual luxury amenities, LED lights, the snazzy new all-digital instruments, but also, the rather impressive active valve performance exhaust system, showcasing quad exhaust tips – so you can wake your neighbors up during those early-morning dashes to the airport, catching your redeye to your next business venture. For some, a perfect two-door coupe that can do the daily driving and track tearing it up equally well. This particular
Oxford White Mustang GT
comes with a set of 
Forgestar F14 wheels
. These are
sized 20x9.5
in the front
and
20×11 in the rear
, finished in a gorgeous
Rose Gold finish
, giving it a perfect wheel upgrade. You can order these wheels through our
authorized dealers
worldwide. In the meantime, feast your eyes on this Oxford White Mustang GT in the media gallery right below.