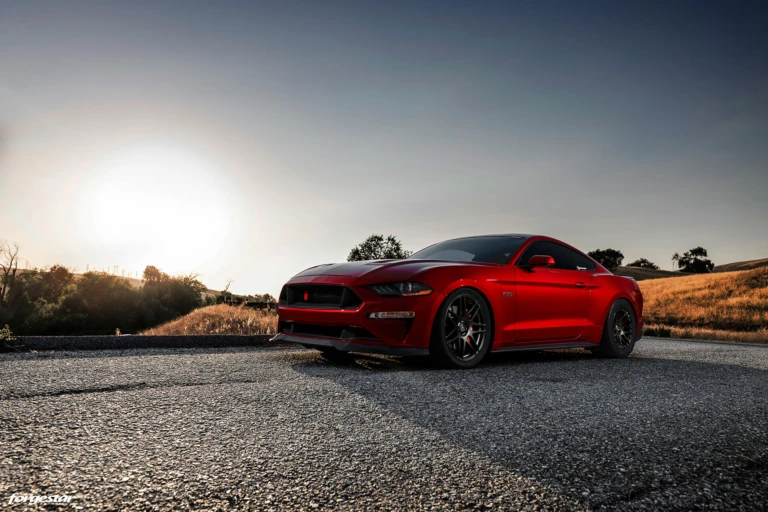 Rapid Red Mustang Ready For The Drag Strip: Forgestar F14 Beadlock Wheels
September 10, 2021
This Rapid Red Mustang features a set of Forgestar F14 wheels in the front and F14 Beadlock wheels in the rear. For this vehicle, the wheels are sized 20x9.5 in the front and 17x10 in the rear, adorned with a Satin Black finish
In the world of cars, some models really do stand out. For the most part, it's the racing heritage, famed garnered through movie appearances, but also, the sheer power & performance these vehicles brought to the table throughout the years. All of the above could be said about one of Ford's most successful models, the Mustang. In a history spanning more than 50 years, this vehicle - alongside the Corvette - has been the poster child for American muscle cars. The current, sixth-generation (not counting the Mach-e) 
Ford Mustang GT
featuri a 5.0-liter Ti-VCT V8 engine with port fuel injection, provides the driver with a whopping 460 horsepower and 420 lb-ft (569 Nm) of torque. It's all connected to a 10-speed SlectShift automatic transmission. In turn, this allows for a wide-ratio span and optimized gear spacing, improving responsiveness and performance during acceleration runs. As a result, the Ford Mustang GT will hit 0-62mph (0-100km/h) in as low as 4.6 seconds. Furthermore, the vehicle comes with the usual luxury amenities, it features LED lights, comes with the snazzy new all-digital instruments, but also, the rather impressive active valve performance exhaust system, showcasing quad exhaust tips – allowing you to wake up the entire neighborhood during those early-morning dashes to the work.
For this gorgeous Rapid Red Ford Mustang GT, the owner went with a clean Forgestar F14 wheel setup. Namely, a set of
Forgestar F14 wheels
in the front and
F14 Beadlock wheels
in the back, making this Mustang ready to hit the drag strip. This wheel setup features sizes of 20x9.5 in the front and 17x10 in the rear, complete with a Satin Black finish in the front and rear. You can grab a detailed look at this Ford Mustang with Forgestar F14 and F14 Beadlock drag racing wheels right below. Both versions of our best-seller, the F14 wheels, are available for ordering through out
authorized dealers
worldwide. For more information, please don't hesitate to
contact us
right away.