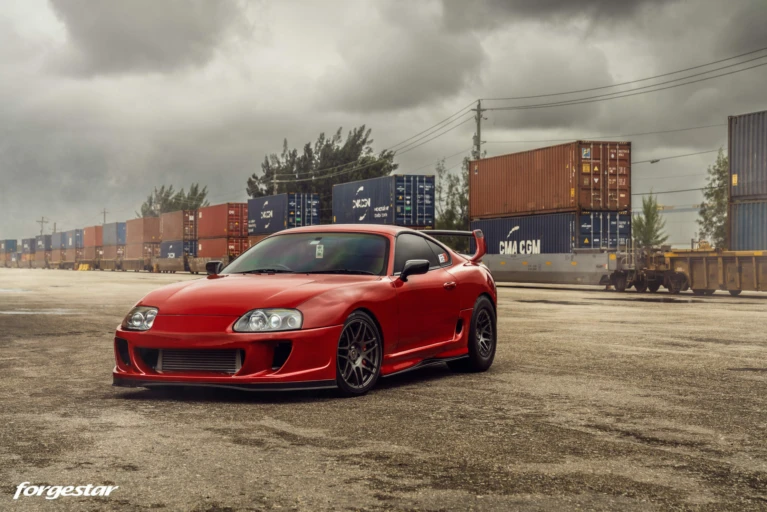 Renaissance Red Toyota Supra MKIV Turbo Gets Ready For The Drag Strip
February 20, 2022
This Renaissance Red Toyota Supra MKIV Turbo Gets Ready For The Drag Strip, Thanks to a set of Forgestar F14 and F14 Beadlock drag racing wheels and Mickey Thompson Drag Radial tires
If exterior finishes like
Nardo Gray
or Interlagos Blue immediately invoke Audi and BMW to mind, for many, Renaissance Red is a finish that unmistakably brings the Toyota Supra MKIV Turbo to your mind. It's simply one of the most beautiful finishes, gracing one of the most beautiful cars ever to be made. And even with the advent of the more modern Toyota Supra A90, the
MKIV Supra
still holds a special place with both enthusiasts and racers alike. And for this Renaissance Red Toyota Supra MKIV Turbo, its owner definitely pulled all the stops in making this a viable track monster. Something all Supras excel at. This particular car received the twin-turbo performance upgrades, allowing it an improved level of horsepower as compared to what the stock 2JZ engine delivers. And while the owner wasn't keen on revealing all the upgrades done to his car, we're guessing the horsepower levels are nearing 1,000 horsepower with all the mods, resulting in one fast Supra. However, to put all that power down, you need a great wheel and tire combination for the drag strip. Cue the Forgestar F14 Drag lineup.
This particular build comes with a set of
Forgestar F14 wheels
in the front and a set of
F14 Beadlock wheels
in the rear. They are
sized 18x9.5 in the front and 15x11 in the rear with a deep concave profile
, allowing for that ultra-wide
Mickey Thompson sticky tires
to be added. Furthermore, the wheels come with a fetching
Gloss Anthracite finish
.
And as a result, this Supra MKIV Turbo is ready to tear it up on the drag strip and it will look good while doing it. You can grab a detailed look at thisbuild in the media gallery right below. If you are interested in these wheels, please don't hesitate to
contact us
 right away. Our sales team will help you choose the best sizes and finishing options for your build.