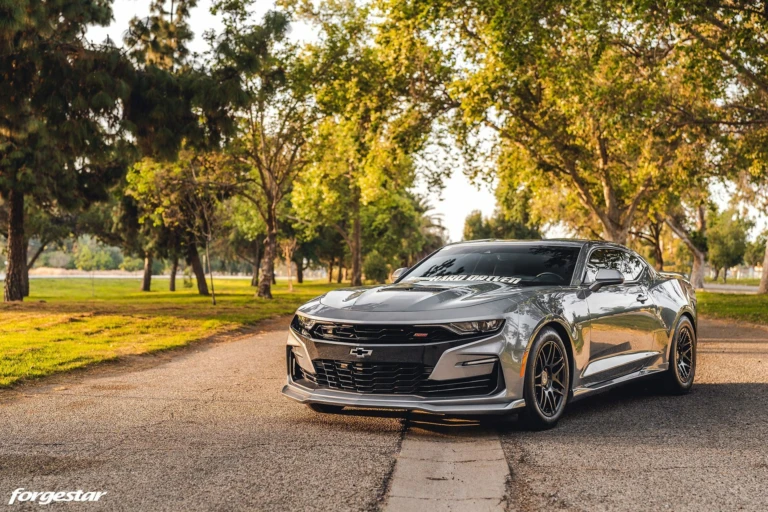 Satin Steel Metallic Camaro SS With Forgestar F14 Beadlock Wheels in Satin Black
July 3, 2020
This Steel Metallic Camaro SS features Forgestar F14 Beadlock wheels in sizes of 18x5 in the front and 17x11 in the rear with a Matte Black finish
Today, we have a gorgeous
Satin Steel Metallic Camaro SS
with a set of
Forgestar F14 Beadlock drag racing wheels
. Starting at $37,995, it's hard to beat the 2020 Camaro SS at this price point. However, with this particular unit, the vehicle comes with the 1LE performance package. In turn, this high-performance vehicle is upgraded with adaptive dampers, upgraded Brembo high-performance brakes, an electronic limited-slip differential, some distinct interior, and exterior upgrades, but also, with a set of wider and stickier tires. However, the last items were not enough for this owner, as he turned over to us for a set of track-oriented drag racing wheels. In turn, his Camaro SS is now even more capable on the drag track, giving other American muscle car owners a car hard to beat in the 1/4 mile race. The Camaro SS features the iconic Chevrolet's small-block V8, delivering 455 horsepower and 455 lb-ft of torque. The vehicle features a linear power delivery and butt-to-seat acceleration that will make any performance-crazed driver satisfied. Furthermore, while hitting that gas pedal, the dual-mode exhaust system will erupt with a thunderous growl, ensuring everyone in the area knows you're going hard at it. And thanks to either a six-speed manual or a 10-speed automatic transmission, the Camaro SS is well-adjusted for various owners. In turn, this makes this American muscle car a perfect track vehicle.
For this particular car, we've built a set of our
Forgestar F14 Beadlock wheels
in
sizes of 18x5 in the front and 17x11 in the rear
. The wheels come with a
Matte Black finish
. The owner went with a non beadlock setup in the front and a beadlock in the rear. Additionally, the owner went with a set of sticky
Mickey Thompson drag radials
for his wheels. In turn, this allows for an outstanding grip on the drag rack, ensuring all the power provided by the V8 engine is fully utilized. The Forgestar F14 Beadlock wheels are
available for ordering right away
. If you need any additional info regarding fitment, sizes, or similar, please don't hesitate to
contact us
right away. Our sales team will help you order the utmost perfect-fitting set of wheels for your vehicle. Please grab a detailed look at this Satin Steel Metallic Camaro SS on Forgestar F14 Beadlock wheels right below.