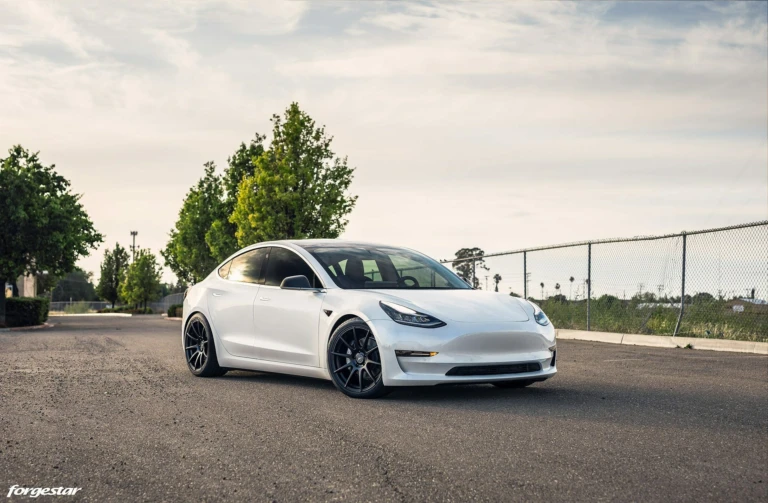 Solid White Tesla Model 3 Dual Motor Gets A Set Of Forgestar CF10 Wheels In Satin Black
June 23, 2020
Solid White Tesla Model 3 with a set of Forgestar CF10 flow-formed wheels sized 19x9 in the front and 19x10 in the rear, finished in Satin Black
When
Tesla
revealed the
Model 3
, it's safe to say that the world stood in awe once again. Ever since the Model S was introduced, we were slowly getting a glimpse into an electrified future. With the
Model X
following along, everyone got more and more confident that an EV can be used freely daily, all without worrying too much about the range and charging station availability. However, with both the Model S and Model X, the price point was what drove some of the potential Tesla customers away. This was all rectified with the Model 3, hitting the sweet spot price, performance, and comfort-wise. It was the
Dual Motor Model 3
that pushed this electric vehicle to the level it is at today. Featuring two electric motors, each powering its own axle, the vehicle comes with superb performance, thanks due to a digitally control torque delivery to the front and rear wheels for far better handling and traction control. In turn, the Model 3 can sprint from 0-60mph (0-97km/h) in as low as 4.4 seconds and hit a top speed of 145mph (233km/h). And all with delivering a whopping 322 miles (518 kilometers) of purely electric range.
Today, we have a clean
Solid White Tesla Model 3
with a set of
Forgestar CF10 rotary-formed wheels
. While Tesla's offering with the aero wheels is great for efficiency and a low drag coefficient, for some owners, getting a great looking set of wheels offsets any range drop they might encounter. For this Model 3, we've built a set of wheels
sized 19x9 in the front and 19x10 in the rear
. The wheels come with a
Satin Black finish
. For a more in-depth look at this Tesla Model 3 build with Forgestar CF10 wheels, please take a look at the media gallery below. If you have any questions regarding our wheels or wish to order these, please don't hesitate to
contact us
. Our sales team will gladly provide you with all the assistance you need when ordering these wheels for your build.