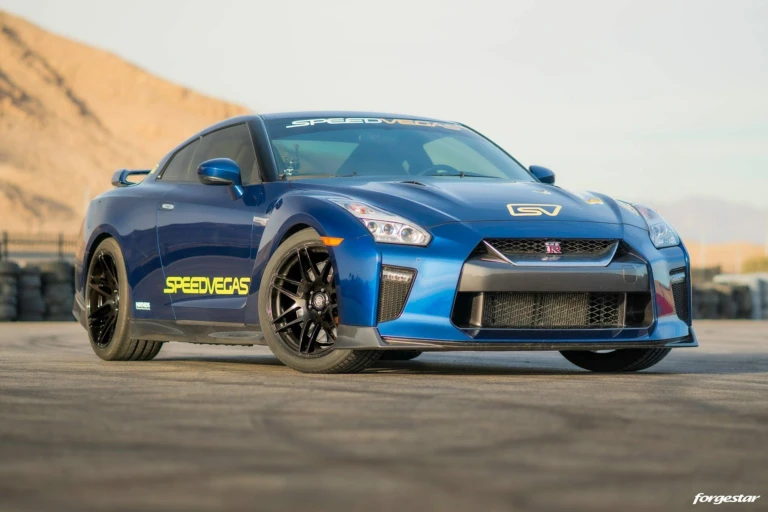 The SPEEDVEGAS Nissan GT-R Now Rocks A Set Of Forgestar Wheels
March 30, 2020
The SPEEDVEGAS Nissan GT-R features a set of Forgestar F14 wheels sized 20x10.5 in the front and 20x12 in the rear, finished in Matte Black
For everyone that needs a short break from the usual activities in Las Vegas, there's a great solution:
SPEEDVEGAS
. Located just 10 minutes from the famous "Welcome to Las Vegas" sign, this a racing facility offers you a chance to drive some of the world's most popular muscle and sports cars, alongside some exotic cars. The SPEEDVEGAS racetrack was purpose-built to offer one thing: an unforgettable place to experience the thrill of driving an exotic supercar on a real racetrack. Built by award-winning track engineers, the track is packed with high-speed straights, gut-wrenching sweeps, and tight, stamp-on-the-brakes deceleration zones. A perfect way to loosen up from all the travel and game room drama. At SPEEDVEGAS, you'll find a wide range of high-performance machines. And one of the recent additions to the stable is a blue
Nissan R35 GT-R
, a vehicle that doesn't require much introduction. After all, ever since it was released, the newest generation of the Nissan GT-R has been filling up both the track record and order books. Sure, in the last couple of years, it's popularity vaned a bit, but this is still one of the most impressive road-legal track machines you can buy for that sort of money. This particular Nissan GT-R features a set of our well-known
Forgestar F14 wheels
. The wheels are built in sizes of 20x10.5 in the front and 20x12 in the rear. In addition to that, the wheels come with a Matte Black finish. Furthermore, the wheels are wrapped in Pirelli P-Zero tires, ensuring an impressive track grip. And for anyone interested, you can
order these wheels right away
. For a more detailed look at the SPEEDVEGAS Nissan GT-R, please take a look at the media gallery right below.