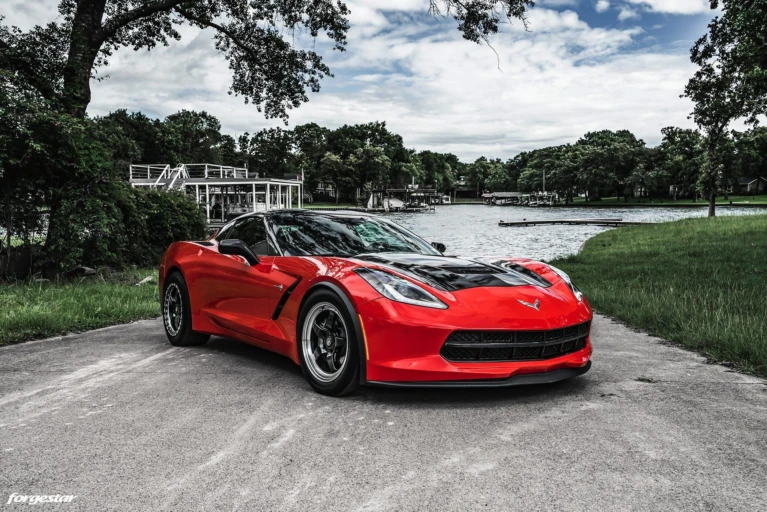 Torch Red Corvette C7 Stingray Gets Ready For The Track With Forgestar D5 Beadlock Wheels Installed
February 23, 2020
For this Corvette C7 Stingray, the owner went with a set of Forgestar D5 and D5 Beadlock drag racing wheels, giving this muscle car a perfect drag racing wheel setup
The
Chevrolet Corvette
is for many the quintessential American muscle car. With the advent of the Corvette C7, the seemingly aggressive looks and impressive performance got pushed up a notch, delivering one of the most striking high-performance two-seater coupes out there. In turn, it's no surprise that the Corvette of this generation is equally loved by both American muscle car enthusiasts and average sports car nuts. However, for some owners, this is also the perfect platform for the creation of a car that will be able to tear it up on the drag strip, but at the same time, be a perfect daily driver as well.
For this
Torch Red Chevrolet Corvette C7 Stingray
, we've built a set of our
Forgestar D5
and
D5 Beadlock wheels
. These first of their kind flow formed drag racing wheels were created specifically for vehicles like these. The wheels are drag strip approved SF1 15.1 and 15.2, come with a 6061 rotary forged beadlock ring, monoblock construction, and for some vehicles, these are some of the lightest drag racing wheels available in their sizes. Furthermore, the wheels clear big brake kits, an important item in the drag racing world. In addition, the threaded helicoils, joined bead knurling and a raised center cap for added axle clearance, all make this a perfect wheel for drag applications. These wheels are available for ordering right away. For further information about pricing and options, please use our price request form. In the meantime, take a detailed look at this Corvette C7 Stingray with Forgestar D5 and D5 Beadlock wheels right below.