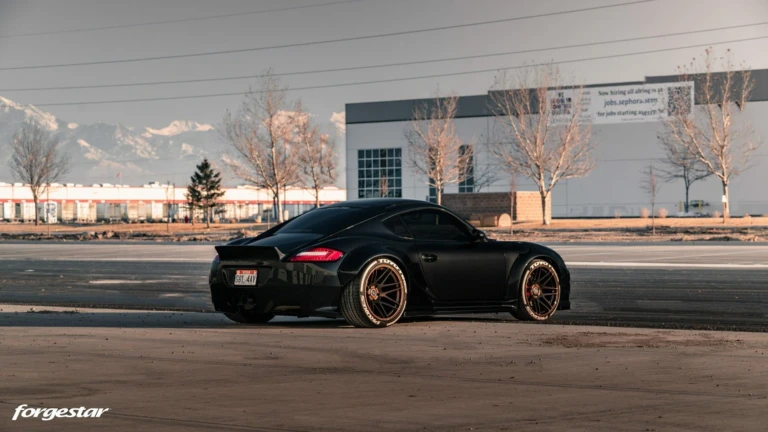 Widebody Porsche Cayman Upgraded With Forgestar F14 Wheels
May 19, 2022
Featuring a widebody kit, joined by a set of lightweight Forgestar F14 rotary-formed concave wheels, sized 19x10 in the front and 19x12 in the rear, finished in a Bespoke Bronze Burst finish, this Porsche Cayman looks simply striking from every angle
Upon release of the
Boxster
, Porsche quickly learned that small, nimble performance machines are high sellers. It was then when the Stuggart-based carmaker decided to offer the Boxster as a two-door fastback coupé as well, targeting an additional pool of potential customers with this vehicle. It only took two years of development and the
Porsche Cayman
was revealed at the 2005 Frankfurt Auto Show, with its sales starting at the beginning of July 2006, pushing impressive sales for the small performance coupé from the start. The first-generation Porsche Cayman could be ordered with either a 3.4 liter or 2.7 liter flat-six boxer engine option. The more powerful version delivers 295 horsepower and 251 lb⋅ft (340 Nm) of torque. One of the appeals of the first-generation Cayman S was the offering of either a 6-speed manual Getrag or an electronically controlled 5-speed automatic transaxle Tiptronic transmission option. As other options go, the Cayman S could be ordered with active shock absorbers (ThyssenKrupp Bilstein GmbH's DampTronic, rebadged as PASM by Porsche), ceramic disc brakes (PCCB), xenon headlights (Hella's Bi-Xenon) and an electronically controlled sport mode (Sport Chrono Package).
Even though the exterior design of the Cayman caught the eye of most, the performance aspect of this vehicle proved to be its money maker. It offered unprecedented handling and driving dynamics, creating one of the most fun to drive cars in its market range and quite frankly, overall. In turn, Porsche sold over 7000 units of this vehicle in the first sales year alone, marking one of the more successful models for the company. Right now, in U.S. dollars, the Porsche Cayman of the first generation can be purchased in the mid-twenties or low-thirties, and as a result, more and more of these fine vehicles are becoming impressive aftermarket builds.
This particular 
Porsche Cayman features a clean black exterior finish, but also, a widebody kit making it an even more aggressive-looking vehicle altogether
. Furthermore, its equipped with a set of lightweight Forgestar F14 rotary-formed wheels. For this widebody build, the wheels are
sized 19×10 in the front and 19×12 in the rear, filling those wide wheel arches nicely.
The gorgeous
Bespoke Bronze Burst finish 
puts the exclamation point on this build. If you are interested, these wheels can be ordered from our 
authorized dealers
right away. In the meantime, for a more detailed look at this widebody build, check out the media gallery right below.