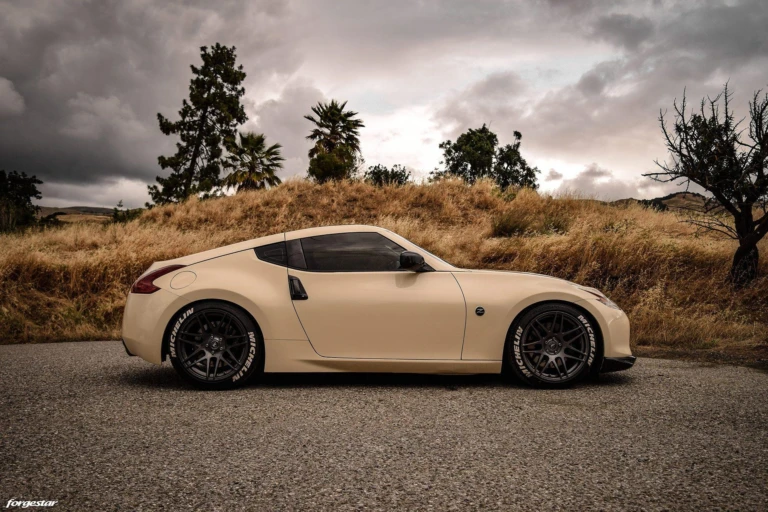 3M Gloss Ivory Nissan 370Z Z34 Looking Clean On Forgestar F14 Wheels in Gunmetal
December 30, 2019
This Nissan 370Z is graced with a beautiful 3M Gloss Ivory wrap, joined by a set of lightweight Forgestar F14 deep concave wheels in Matte Black
If you need a car that weighs just 3,232 lb (1,466 kg) and can be thrashed around the racetrack and take some tight turns at incredible speeds, look no further than the
Nissan 370Z
. After all, the 370Z is one of the best handling two-seater coupes out there and the market is feeling that. Sure, to an extent, the 370Z is an often-underestimated car due to its bigger brother, the
Nissan GTR
, this nimble coupe is still a fun & powerful vehicle that provides a great deal of driving pleasure. The car comes powered by a naturally-aspirated 3.7 liter V6 VQ37VHR engine, delivering 337 horsepower and 269 lb-ft (365 Nm) of torque, allowing the 370 to sprint from 0-62mph (0-100km/h) in just 5.2 seconds and to continue on to a maximum speed of 155 mph (250km/h). In the Japanese import tuning scene,
Nissan
holds a high place. This is due to both the popularity of high-performance models from the Japanese carmaker, but also, due to the abundance of tuning parts available for most of these platforms. For the Nissan 370Z, this is evidently true as we've seen loads of tuned 370Zs all across the nation lately. However, some of these Nissan 370Z stand apart from the rest. Just as this stunning Gloss Ivory Nissan 370Z build.
This particular vehicle comes with one of the most interesting vinyl wraps we've seen to date. Coming from 3M, this Gloss Ivory wrap suits this high-performance coupe perfectly, giving it quite a unique look. Furthermore, the owner of this vehicle decided to spice things up in the wheel department, giving his 370Z a set of lightweight
Foregestar F14 deep concave rotary-formed wheels
. The wheels come with a Gunmetal finish, working nicely against the Ivory Gloss exterior of the car. Add the substantial drop and this Nissan 370Z now showcases an aggressive stance worthy of any car meet in South California. You can grab a detailed look at this Gloss Ivory Nissan 370Z build in the media gallery right below. These wheels are available for ordering, so please don't hesitate to
contact us
right away for a pricing inquiry or any other information.