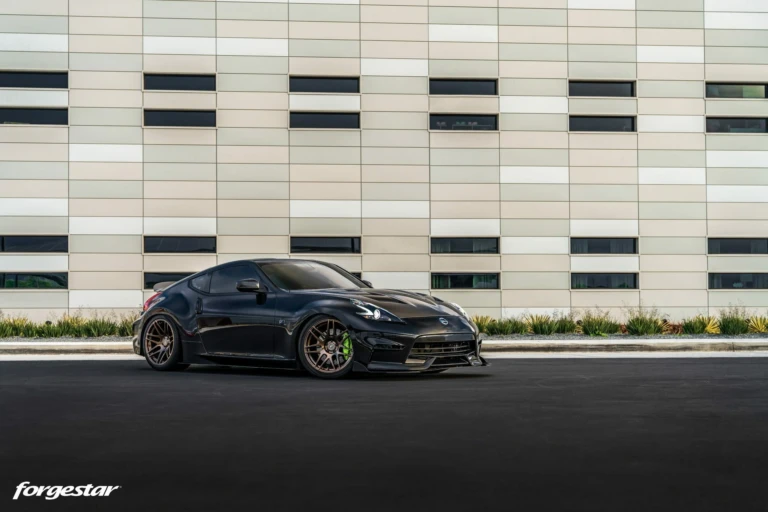 Black Nissan 370z With Forgestar F14 Wheels Finished in Bespoke Bronze Burst
May 19, 2022
This clean black Nissan 370z comes with a set of lightweight Forgestar F14 rotary-formed concave wheels, sized 19x9.5 in the front and 19x11 in the rear, featuring a gorgeous Bespoke Bronze Burst finish
When compared with its bigger brother, the
Nissan GTR
, the
Nissan 370z
comes with a less powerful engine and somewhat lesser performance overall. However, the 370z is a lot lighter than the GTR, weighing in. at just 370Z weighs just 3,232 lb (1,466 kg), meaning it can be easily thrashed around the racetrack and take some tight turns at incredible speeds.  As a result, for many, the smaller Z is a more fun car to have and we tend to agree. Furthermore, to make matters even more interesting, there aren't a lot of two-seater coupes available on the market today. However, there's definitely a thriving market for those cars. No matter how many Crossovers and SUVs we see on the roads today.
Overall, the 
Nissan 370Z
 is a nimble coupe that's both powerful & fun to drive, in turn affording the driver with a great deal of driving pleasure. The car comes powered by a naturally-aspirated 3.7 liter V6 VQ37VHR engine, delivering 337 horsepower and 269 lb-ft (365 Nm) of torque, allowing the 370 to sprint from 0-62mph (0-100km/h) in just 5.2 seconds and to continue on to a maximum speed of 155 mph (250km/h). In the Japanese import tuning scene, 
Nissan
is generally a highly regarded car brand. This is due to both the popularity of the high-performance models from the Japanese carmaker, but also, due to the abundance of tuning parts available for most of these platforms. For the Nissan 370Z, this is evidently true as we've seen loads of tuned 370Zs all across the nation lately. And this beautiful black 370z is no exception.
This particular black Nissan 370Z comes lowered on a set of lightweight
Forgestar F14 wheels
, making this two-seater coupe look even more aggressive. For this vehicle, the wheels are machined in
sizes of 19x9.5 in the front and 19x11 in the rear
, adorned with a
Bespoke Bronze Burst finish
for the wheels. In turn, you've got yourself a Japanese head turner at any cars & coffee event out there. For those interested, these Forgestar F14 flow-formed wheels can be ordered right away. Please don't hesitate to contact us for more information and a 
price quote
 for these wheels right away. In the meantime, feast your eyes on this gorgeous build.