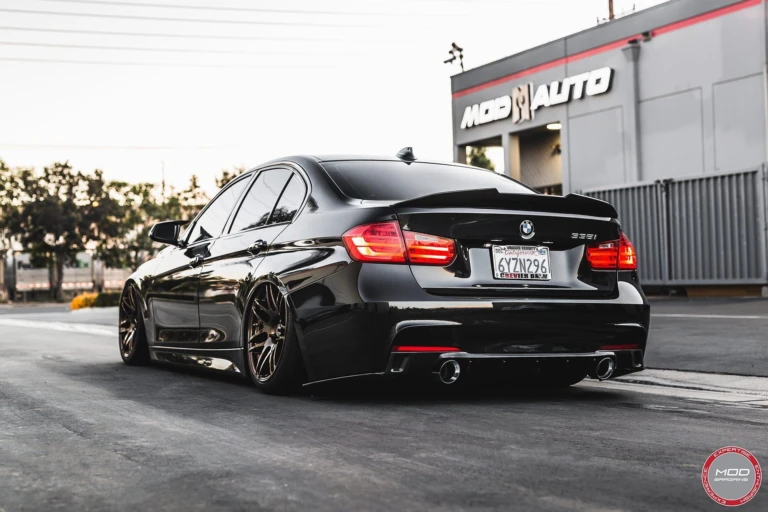 Black Sapphire Metallic BMW 335i on Forgestar F14 Wheels in Bronze Burst
November 29, 2019
For this BMW 335i, these Forgestar F14 deep concave wheels are sized 20x8.5 in the front and 20x10.5 in the rear, coming with a Bronze Burst finish
While many look at the
BMW 335i
as a stepchild who is often neglected for either the higher-performance M3 and M4 or the 320i that comes with a lower price tag, the fact remains that this is still a great car. Thanks to a no-nonsense approach to high-performance, near-perfect 50:50 weight distribution, the BMW F30 335i provides supreme handling and provides great satisfaction and fun for their drivers. The BMW F30 335i is powered by the N55B30M0 straight-six, TwinPower Turbo engine. It delivers 300 horsepower and 332 lb-ft (350Nm) of torque, allowing the vehicle to sprint from 0–62mph (0–100km/h) in 5.5 seconds. Its top speed is electronically limited to 155mph (250km/h). Sure, those are not M3 numbers, but they are still close and plenty for more owners. In addition to that, thanks to a lower price tag, for the price difference, you can upgrade your vehicle with some aftermarket wheels. And that's exactly what the owner did for his Black Sapphire Metallic BMW 335i.
This vehicle comes with a set of deep concave
Forgestar F14 wheels
.
Sized 20x8.5 in the front and 20x10.5 in the rear
, the wheels fit this bagged 335i perfectly. Furthermore, thanks to a
Bronze Burst finish
, the wheels look great against the Black Sapphire Metallic exterior of this vehicle. Overall, the resulting build may not be to everyone's liking, but this BMW 3 Series looks impressive and really aggressive, exactly what its owner wanted. You can grab a detailed look at this Black Sapphire Metallic BMW 335i on Forgestar F14 wheels right below.