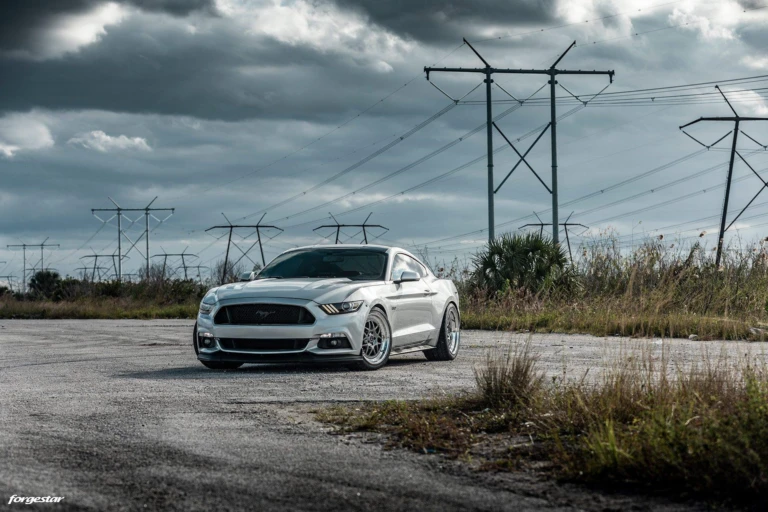 Metallic Silver Ford Mustang GT S550 Gets Forgestar M14 Wheels in Gunmetal w/ Polished Lips
June 20, 2020
This Ford Mustang GT comes with Forgestar M14 wheels, sized 19x9.5 and 19x11 in the front and rear, respectively. The wheels are adorned with a Gunmetal finish for the centers and Polished Aluminum for the lips
With the
Ford Mustang GT S550
, you get a 5.0-liter Ti-VCT V8 engine with port fuel injection, providing a whopping 460 horsepower and 420 lb-ft (569 Nm) of torque. It's all connected to a 10-speed SlectShift automatic transmission, featuring a wide-ratio span and optimized gear spacing, improving responsiveness and performance during acceleration runs. In turn, you'll be able to hit 0-62mph (0-100km/h) in as low as 4.6 seconds. Add the usual luxury amenities, LED lights, the snazzy new all-digital instruments, but also, the rather impressive active valve performance exhaust system, showcasing quad exhaust tips - so you can wake your neighbors up during those early-morning dashes to the airport, to catch your redeye flight to your next business meeting. And for a lot of car owners, this car is as good as it gets. And we tend to agree. However, the only place we find it somewhat lacking is the wheel department. And yes, that's where we come in.
For this particular
Metallic Silver Ford Mustang GT S550
, we've built a set of our
Forgestar M14 wheels
. Every Forgestar M14 wheel is built to exact specifications for each of our customers, coming with a custom bolt pattern and sizes. Furthermore, the wheels feature a rotary formed center and inner barrel, joined together with a forged-rolled lip. In turn, they will clear most big brake kits and thanks to a wide range of wheel widths and offsets, they pose a perfect upgrade for a wide variety of custom builds that require unusual fitments. The end result is a mesh styled wheel that looks good on anything from a
Ford Mustang
,
Subaru WRX
, a 
BMW M3
, all the way to a 
Scion FRS
, or a custom-built 
Porsche 964 Turbo
. And these are definitely some of the best looking wheels available on the market right now. For this build, the
wheels
are made in
sizes of 19x9.5 and 19x11 in the front and rear
, respectively. The wheels come adorned with a
Gunmetal finish for the centers
and
Polished Aluminum for the lips
, creating a gorgeous and understated combination that looks great on this Metallic Silver Ford Mustang. Furthermore, the wheels come with
Nitto NT555 Extreme ZR tires
. These are
sized 275/35/19 in the front and 305/30/19 in the rear
. For a more detailed look at this Ford Mustang GT, please take a look at the build gallery below.