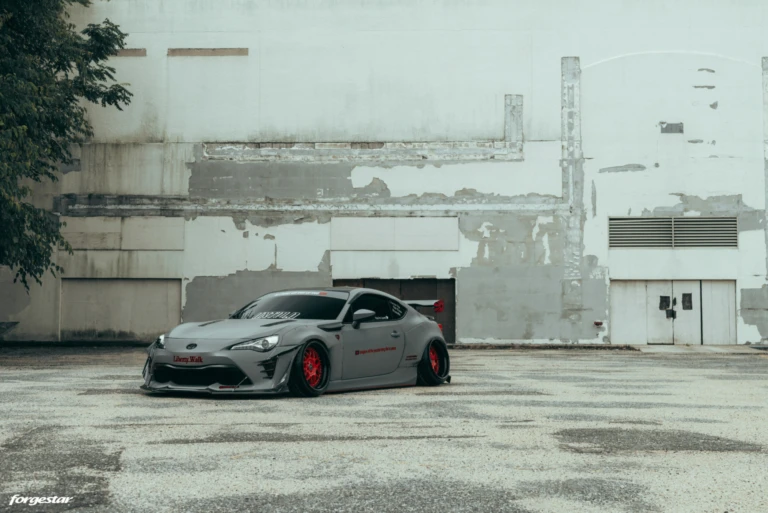 Matte Gray Liberty Walk Widebody Toyota 86 Gets Forgestar M14 Wheels
October 27, 2021
This Toyota 86 features a complete Liberty Walk widebody kit, a matte gray exterior finish, and a set of custom-made Forgestar M14 modular forged wheels
In the world of great handling cars, the
Toyota 86
holds one of the top spots. It's a simple, nimble, and well-balanced vehicle, built to take on corners like a champ. It's a bit underpowered for modern standards, but this is a vehicle that's been a staple of any automotive scene for years now. And with the aftermarket tuning crowds embracing this vehicle, we're getting more and more spectacular builds, featuring this Japanese performance machine. This particular
Toyota 86
features a bevy of aftermarket additions. First, the most noticeable item is the complete
Liberty Walk widebody kit
, giving this vehicle an aggressive exterior look throughout. The kit consists of a front diffuser, rear diffuser, a set of wide fenders in the front and rear, all topped off with a large aero wing. The kit naturally comes with what has become a staple design feature of Liberty Walk kits: exposed fastening hardware. While some may not like it, it certainly gives a signature touch to their builds.
The whole kit is further accentuated by a gorgeous shade of matte gray. It simply gives the vehicle a menacing, somewhat military looking finish. It's all joined by red accents, perfecting the build further. The final touch (or the exclamation point) is a set of
Forgestar M14 modular forged wheels
in
Gloss Red and Gloss Black finish combination
. These wheels are built to your exact custom specifications, they come with custom bolt patterns, offering a wide range of sizes and offsets, perfect for many aftermarket builds like this one. You can custom order these wheels through a wide network of our
authorized dealers
worldwide. Please
contact us
for more information about ordering, pricing, and other questions you may have. In the meantime, please grab a detailed look at this Matte Gray Liberty Walk Widebody Toyota 86 with Forgestar M14 wheels in the media gallery right below.