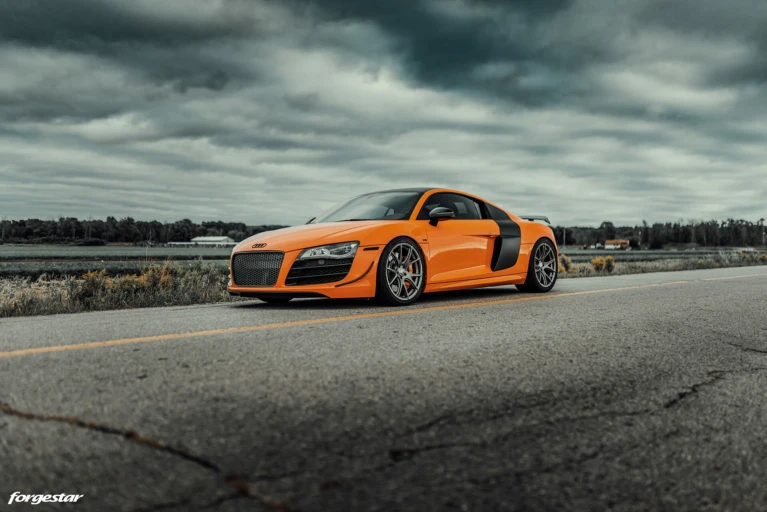 Samoa Orange Audi R8 V10 Featuring Forgestar CF5V Wheels
October 21, 2021
A beautiful Samoa Orange Audi R8 V10 with a set of lightweight Forgestar CF5V wheels, sized 19x8.5 in the front and 19x11 in the rear, featuring a gorgeous Gloss Anthracite finish
For anyone looking for a high-performance coupe with a throaty, naturally-aspirated V10 engine, delivering a mighty growl that will soon be replaced by buzzing, albeit fast, electric vehicles, then the
Audi R8 V10
is the perfect choice. Easily one of the last members of a dying breed, the R8 is definitely a vehicle that seldom gets the right recognition, albeit being one of the best performing coupes out there. Overall, the Audi R8 is a highly potent performance machine. This mid-engined supercar is powered by the aforementioned 5.2 Liter V10 engine delivering 525 horsepower and 530 N⋅m (391 lb⋅ft) of torque. As a result, this allows the R8 to sprint from 0-100km/h (0-62mph) in as low as 4.1 seconds. The beast will sprint all the way up to an impressive top speed of 313 km/h (194.49 mph). Impressive performance. However, with this particular Samoa Orange Audi R8, this is not the only appealing aspect. After all, the vehicle is equipped with a six-speed manual, enhancing the driving experience further.
Design wise, the R8 of this generation doesn't disappoint either. And unlike the sharper, more aggressive second-generation, this first-generation R8 features a lot more curvaceous design lines, perfectly accentuating the high-performance nature of this vehicle. However, even with a design as beautiful as this, it's still showing some signs of time, no matter what we might say. In turn, for the owner of this R8, the aggressive looks of this car are further emphasized & updated thanks to a set of
Forgestar rotary formed aftermarket wheels
.
This build features a set of lightweight
Forgestar CF5V wheels
. These clean-looking wheels feature a split y-spoke design, matched with spoke cuts to further accentuate the aggressive design. For this Audi R8, they are built in
sizes of 19x8.5 ET+44 and 19x11 ET+50 in the rear
. And thanks to a
Gloss Anthracite finish
, they make the Samoa Orange exterior of this vehicle pop! If you are interested, these wheels can be ordered from our
authorized dealers
right away. In the meantime, for a more detailed look at this Samoa Orange Audi R8 with Forgestar CF5V wheels, check out the media gallery right below.