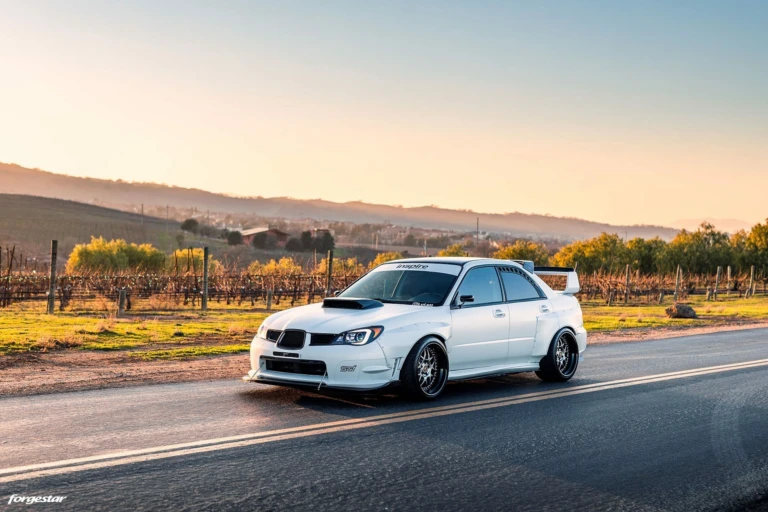 Widebody Subaru WRX STI Dropped On Forgestar M14 Wheels
March 2, 2020
This Subaru WRC STi comes with a complete widebody kit, several aero upgrades and a set of custom-made Forgestar M14 modular forged wheels
The
Subaru WRX STi
is one of those cars that receive a lot of love from the automotive world and its fans. Ever since it made its debut in the WRC (World Rally Championship) back in 1993, the vehicle is synonymous with racing and performance. However, it was the Subaru Impreza WRC2005 that made the most noise in the automotive world, as that's considered as one of the best looking rally cars ever to be made. The vehicle features an unorthodox and rather appealing sound that's produced by the 2.0-liter four-cylinder boxer engine. It comes with the four-wheel-drive system as standard, looks really quick while standing still, and thus, there is no surprise why this vehicle became popular with race teams, drivers, and Subaru fans alike. This particular white Subaru WRX STi comes with a complete widebody kit, a set of aerodynamic enhancements, and
Forgestar M14 modular forged wheels
. While the widebody kit will definitely divide the fans, the addition of these Forgestar M14 wheels makes all the sense in the world, thanks to their modular and highly customizable construction.
These wheels are built to exact specifications for each of our customers and they come with a custom bolt pattern. Furthermore, the wheels feature a rotary formed center and inner barrel, joined together with a forged-rolled lip. In turn, they will clear most big brake kits and thanks to a wide range of wheel widths and offsets, they pose a perfect upgrade for a wide variety of custom builds that require unusual fitments. The end result is a mesh styled wheel that looks good on anything from a
Subaru WRX
, a
BMW M3
,
Ford Mustang
, all the way to a
Scion FRS
, or a custom-built
Porsche 964 Turbo
. For a more detailed look at this build, please take a look at the media gallery below. For those interested in these wheels, please use our
pricing request
form to get the most accurate information about these wheels.