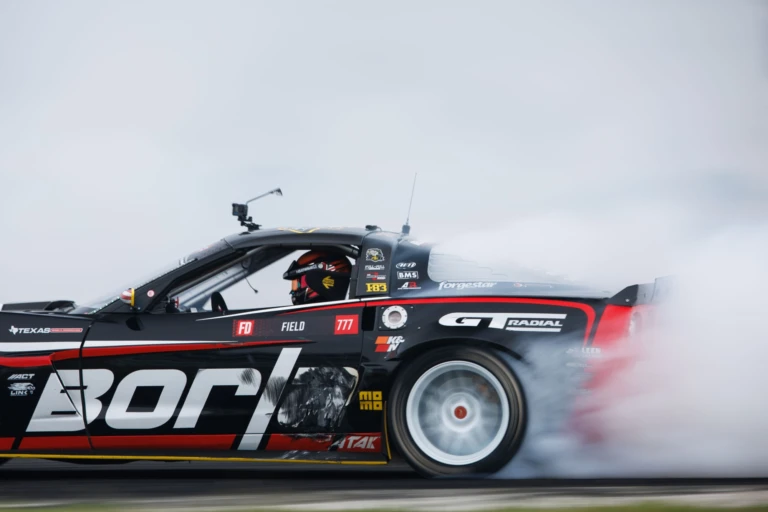 Formula Drift 2023- New Jersey
June 27, 2023
Storm clouds and tire smoke engulfed the sky above Old Bridgetown Raceway in Englishtown, New Jersey, amidst Formula Drift's annual mid-season PRO series event. Aptly dubbed "The Gauntlet," this race lived up to its name, challenging drivers with a makeshift figure 8 drift course demanding precise initiations, seamless transitions, and expert use of momentum. As rain showers loomed overhead, threatening to compromise track conditions, Forgestar's star-studded lineup of PRO series drivers, Dylan Hughes, Matt Field, and points leader Fredric Aasbo, entered the event with high hopes, all positioned within the top ten of the season standings.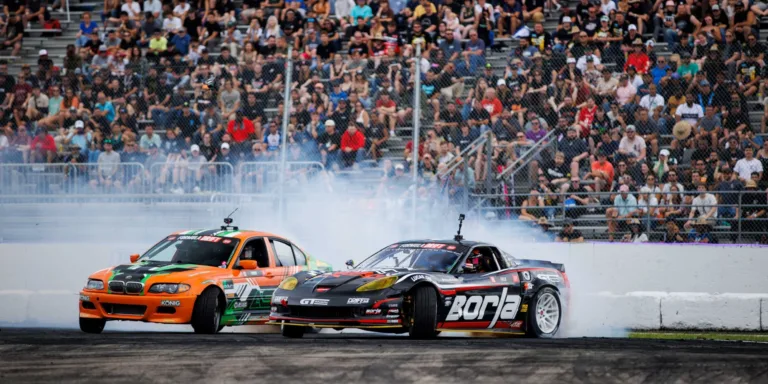 Top 32
The intensity was palpable as the Top 32 round commenced. Leading in points was the formidable 'Fast Freddy' Aasbo who found himself confronted by the unforeseen rainfall and a powerful opponent, Ken Gushi. Battling through the treacherous track conditions and with Gushi taking an aggressive lead, Fredric Aasbo who fought hard in the chase position yet shocked spectators with an early elimination in the Top 32. Meanwhile, Dylan Hughes engaged in a fierce battle with Trenton Beechum, securing his place in the Top 16. Matt Field went head-to-head with Robert Thorne, emerging victorious and joining Hughes in the next round.
Top 16 & Great 8
Competition was firing up, so Dylan Hughes brought the heat in his 2JZ-swapped E46. Despite delivering an exhilarating performance in the Top 16, Dylan was eliminated by Joao Barion. Matt Field faced off against Jonathan Castro in the Top 16 and Rome Charpentier in the Great 8, leaving both opponents in his tire smoke as he charged forward to the Final 4.
Final 4
Advancing into the Final 4, Field and his C6 Corvette encountered a classic battle of American muscle against the iconic Adam LZ and his new S650 Mustang. Taking the lead position, Field maintained a clean and commanding run, but the chase against Adam's big-angle maneuvers over the sweeping banks of Old Bridgetown proved challenging. In a close competition, the judges awarded LZ the win, concluding Field's weekend and securing him a third-place position on the podium.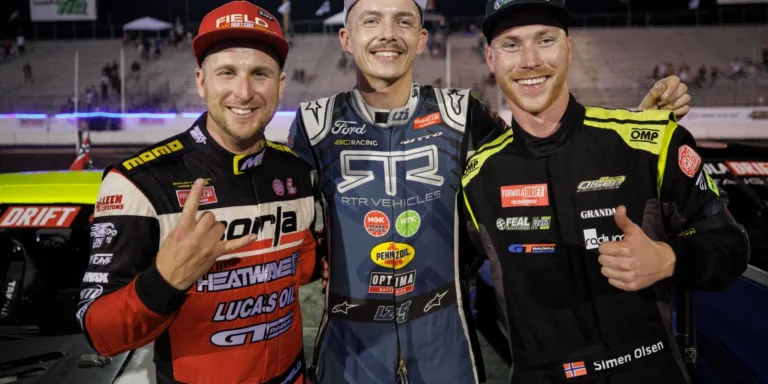 Matt Field earned 76 points in Round 4, propelling him back into first place with a total of 256 points. The defending three-time FD champion and previous points leader, Fredric Aasbo, dropped to third place in a dead tie with Chelsea DeNofa. Dylan 'the dozer' Hughes rounds out our top ten with 161 points, leaving the 2023 championship wide open to any competitor in the remaining races of the season. The 20th anniversary season of Formula Drift continues in St. Louis, Missouri, from July 13th to 15th, promising even more dramatic drift battles and spicy showdowns as we get closer to crowning a 2023 drift king.