Formula Drift 2023 - Utah
September 19, 2023
Open skies and Rocky Mountain majesty paint a scenic backdrop across the valley of Grantsville, UT, where the Utah Motorsports Campus plays host to Round 7 of Formula Drift's 2023 season. In just its second season at Utah Motorsports Campus, we witness this track deceive drivers with a seemingly simplistic drift course featuring sweeping outside zones and sharp initiations. Drivers will be confronted with rapid transitions between acceleration and deceleration zones, requiring an aggressive approach to navigate the competition.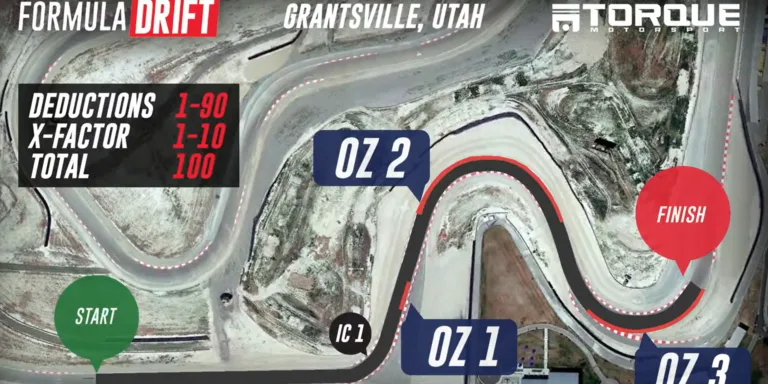 Competition
Forgestar's lineup of FD PRO drivers all qualified for the competition, with Dylan Hughes ranking 7th in qualifying, Fredric Aasbo in 13th, and Matt Field scraping by in 25th. Moving into the Top 32 battles, superstar driver Dylan Hughes suffered from understeer issues and was quickly knocked out by his opponent, Diego Higa. With lessons learned from the last round in Seattle, Matt Field battled fierce opponents like Joao Barion in the Top 32 and Dean Kearney in the Top 16. Right behind him was rival Fredric Aasbo, taking on Kyle Mohan and Travis Reeder along the way.
Great 8
Facing off against fellow teammate Ryan Tuerck, Fredric Aasbo was knocked out of the Great 8, causing him to drop from second to fourth in the standings and diminishing his chances of a fourth FD championship. Unlike his fellow Forgestar driver, Matt Field continued to conquer the competition, taking down opponents Dean Kearney and Chris Forsberg as he made his way into the final battle against RTR driver Chelsea DeNofa.
Head-to-Head
With DeNofa in the lead position, making massive angle through the first inside corner, Matt Field flies off course and into the side of DeNofa. The collision would cost Field the 1st place podium position, but it's not all bad news for the Beast From the Bay. With a second-place podium finish in Utah, Matt launches back into second in the standings from a fourth-place position. With just 53 points separating Field and DeNofa as we approach the Title Fight, it is truly anyone's competition. Join Forgestar for the final event in Irwindale on October 13th to witness who will win the 2023 Formula Drift season.